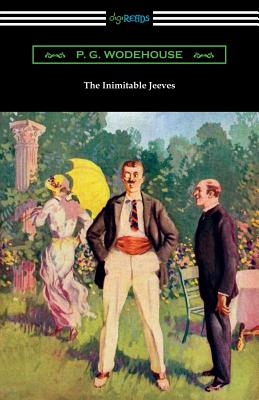 The Inimitable Jeeves
Paperback

* Individual store prices may vary.
Other Editions of This Title:
Paperback (11/27/2020)
Paperback (12/20/2019)
Paperback (5/26/2020)
Paperback (4/12/2021)
Paperback (1/27/2017)
Paperback (4/18/2020)
Paperback (6/16/2019)
Paperback (5/30/1923)
Paperback (5/17/1923)
Paperback (8/17/2019)
Hardcover (5/17/1923)
Hardcover (3/4/2020)
Paperback (3/4/2020)
Paperback (5/22/2019)
Paperback (9/15/2019)
Hardcover (5/10/2007)
Paperback (7/5/2011)
Description
First published together in 1923, "The Inimitable Jeeves" is a collection of short stories by P. G. Wodehouse featuring his famous characters Bertie Wooster and his wise valet, Jeeves. The stories were previously published in magazines before being collected together and most share the common theme of Bertie's friend, Bingo Little, and his dramatic love life. The Inimitable Jeeves is the second collection of Jeeves stories, following "My Man Jeeves", published in 1919, and appearing before "Carry On, Jeeves", published in 1925. Many of Wodehouse's most popular and hilarious tales appear in this timeless collection, such as "Aunt Agatha Takes the Count", where Bertie's intimidating Aunt Agatha tries to make him marry a boring, respectable young lady; "Comrade Bingo", where Bingo shows he will do anything for his current love, including joining the Communist Party; and "The Great Sermon Handicap", where Bertie, Bingo, and others bet on the length of the sermons of local parsons, which is considered to be one Wodehouse's most entertaining stories. This popular collection from a master humorist shows why Bertie and Jeeves have remained such enduring and charming characters. This edition is printed on premium acid-free paper.
Digireads.com, 9781420962871, 160pp.
Publication Date: June 18, 2019