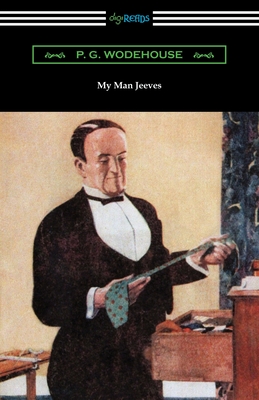 My Man Jeeves
Paperback

* Individual store prices may vary.
Other Editions of This Title:
Paperback (10/31/2016)
Paperback (5/1/1919)
Paperback (10/28/2018)
Paperback (9/29/2016)
Paperback (1/30/2020)
Paperback (10/20/2009)
Paperback (7/30/2008)
Paperback (6/8/2018)
Paperback (10/13/2018)
Paperback (2/20/2007)
Paperback (1/27/2015)
Paperback (10/18/2018)
Paperback (4/23/2020)
Paperback (2/25/2018)
Paperback (5/29/2017)
Paperback (6/27/2019)
Paperback (4/15/2014)
Paperback (2/25/2014)
Description
"My Man Jeeves" is a collection of short stories by P. G. Wodehouse, several of which concern two of his most beloved characters, the idle rich young English aristocrat, Bertie Wooster, and his clever and unflappable valet, Jeeves. Bertie and Jeeves, although they are minor characters, appear for the first time in "Extricating Young Gussie", which while not included in the original collection of "My Man Jeeves" is included in this collection. First appearing serially in several magazines before being published in a book in 1919, "My Man Jeeves" also contains several stories about Reggie Pepper, who was an early prototype of Wodehouse's more famous character, Bertie Wooster. Reggie appears in tales such as "Absent Treatment", where the wealthy and bored Reggie helps his hapless friend remember his wife's birthday so that she will allow him to come back home. Wodehouse rewrote many of these early stories to include Bertie and Jeeves and republished them in "Carry on, Jeeves" in 1925. This collection of nine stories exhibit the origins of Wodehouse's most famous literary creations, which would eventually solidify his reputation as one of England's greatest humorists. This edition is printed on premium acid-free paper.
Digireads.com, 9781420965018, 132pp.
Publication Date: December 20, 2019