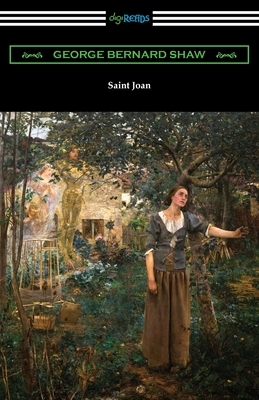 Saint Joan
Paperback

* Individual store prices may vary.
Other Editions of This Title:
Paperback (7/17/2020)
Paperback (7/17/2020)
Paperback (2/6/2017)
Paperback (12/28/1923)
Paperback (7/3/2020)
Paperback (11/19/2020)
Paperback (4/27/2021)
Paperback (3/30/2020)
Paperback (10/18/2020)
Paperback (3/5/2021)
Paperback (2/4/2021)
Paperback (3/30/2020)
Paperback (2/11/2021)
Paperback (5/20/2020)
Paperback (5/20/2020)
Paperback (2/4/2021)
Hardcover (12/28/1923)
Description
First performed in 1923, "Saint Joan" is the celebrated play by George Bernard Shaw, the Irish playwright, social activist, and Noble Prize-winner. Premiering three years after Joan of Arc was canonized by the Roman Catholic Church, Shaw wrote "Saint Joan" because he was dissatisfied with how the saint was often portrayed in literature and history and wanted to present a more realistic and human Joan. Considered Shaw's only tragedy and one of his most significant works, "Saint Joan" follows the famous French soldier and commander from her life as a peasant girl who claims to experience visions sent by God to guide her, to her stunning and unexpected military victories, and finally to her trial and execution. Shaw's Joan is a complex character: brave, devout, and clever, but also intolerant, na ve, and foolish. Joan struggles to understand why she is not embraced by her monarch and his court after her impressive victory at Orleans and remains confident in her faith even as she faces torture and a lifetime of imprisonment or death at the hands of her accusers. "Saint Joan" endures as one of Shaw's most adapted and performed plays for its nuanced portrayal of a fascinating and often misunderstood historical figure. This edition is printed on premium acid-free paper.
Digireads.com, 9781420972030, 130pp.
Publication Date: January 1, 2021