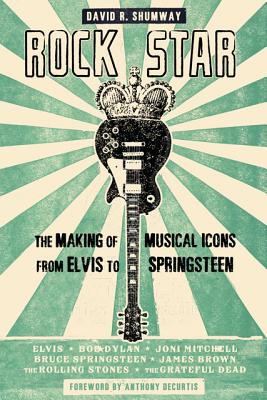 Rock Star
The Making of Musical Icons from Elvis to Springsteen
Hardcover

* Individual store prices may vary.
Description
The nature and meaning of rock stardom--celebrities who embody the most important social and cultural conflicts of their era.
All stars are celebrities, but not all celebrities are stars, states David Shumway in the introduction to Rock Star, an informal history of rock stardom. This deceptively simple statement belies the complex definition and meaning of stardom and more specifically of rock icons. Shumway looks at the careers and cultural legacies of seven rock stars in the context of popular music and culture--Elvis Presley, James Brown, Bob Dylan, the Rolling Stones, the Grateful Dead, Joni Mitchell, and Bruce Springsteen. Granted, there are many more names that fall into the rock icon category and that might rightfully appear on this list. Partly, that is the point: rock star is a familiar and desired category but also a contested one.
Shumway investigates the rock star as a particular kind of cultural construction, different from mere celebrity. After the golden age of moviemaking, media exposure allowed rock stars more political sway than Hollywood's studio stars, and rock stars gradually replaced movie stars as key cultural heroes. Because of changes in American society and the media industries, rock stars have become much more explicitly political figures than were the stars of Hollywood's studio era. Rock stars, moreover, are icons of change, though not always progressive, whose public personas read like texts produced collaboratively by the performers themselves, their managers, and record companies. These stars thrive in a variety of media, including recorded music, concert performance, dress, staging, cover art, films, television, video, print, and others.
Filled with memorable photographs, Rock Star will appeal to anyone interested in modern American popular culture or music history.
Johns Hopkins University Press, 9781421413921, 264pp.
Publication Date: September 15, 2014
About the Author
David R. Shumway is a professor of English and literary and cultural studies at Carnegie Mellon University and author of Creating American Civilization: A Genealogy of American Literature as an Academic Discipline.
or
Not Currently Available for Direct Purchase