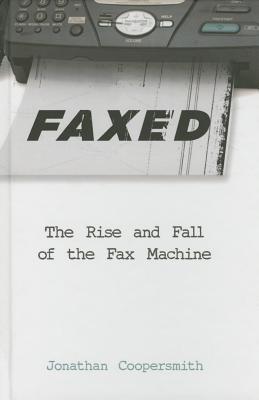 Faxed (Hardcover)
The Rise and Fall of the Fax Machine (Johns Hopkins Studies in the History of Technology)
Johns Hopkins University Press, 9781421415918, 320pp.
Publication Date: February 28, 2015
Other Editions of This Title:
Paperback (10/4/2016)
* Individual store prices may vary.
Description
Faxed is the first history of the facsimile machine--the most famous recent example of a tool made obsolete by relentless technological innovation. Jonathan Coopersmith recounts the multigenerational, multinational history of the device from its origins to its workplace glory days, in the process revealing how it helped create the accelerated communications, information flow, and vibrant visual culture that characterize our contemporary world.
Most people assume that the fax machine originated in the computer and electronics revolution of the late twentieth century, but it was actually invented in 1843. Almost 150 years passed between the fax's invention in England and its widespread adoption in tech-savvy Japan, where it still enjoys a surprising popularity. Over and over again, faxing's promise to deliver messages instantaneously paled before easier, less expensive modes of communication: first telegraphy, then radio and television, and finally digitalization in the form of email, the World Wide Web, and cell phones. By 2010, faxing had largely disappeared, having fallen victim to the same technological and economic processes that had created it.
Based on archival research and interviews spanning two centuries and three continents, Coopersmith's book recovers the lost history of a once-ubiquitous technology. Written in accessible language that should appeal to engineers and policymakers as well as historians, Faxed explores themes of technology push and market pull, user-based innovation, and "blackboxing" (the packaging of complex skills and technologies into packages designed for novices) while revealing the inventions inspired by the fax, how the demand for fax machines eventually caught up with their availability, and why subsequent shifts in user preferences rendered them mostly pass .
About the Author
Jonathan Coopersmith is a professor of history at Texas A&M University. He is the author of The Electrification of Russia, 1880-1926 and the history of technology blog Infinity, Limited.
or
Not Currently Available for Direct Purchase