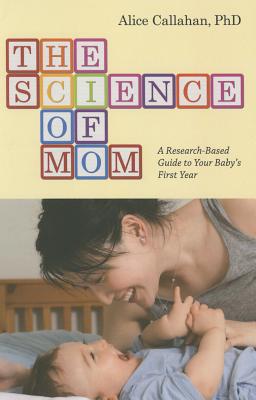 The Science of Mom
A Research-Based Guide to Your Baby's First Year
Paperback

* Individual store prices may vary.
Description
The Science of Mom blogger makes sense of research studies for new mothers.
It seems like every time a new mother turns on her computer, radio, or television, she is greeted with news of yet another scientific study about infancy. Ignoring good information isn't the right course, but just how does one tell the difference between solid studies, preliminary results, and snake oil?
In this friendly guide through the science of infancy, Science of Mom blogger and PhD scientist Alice Callahan explains how non-scientist mothers can learn the difference between hype and evidence. Readers of Alice's blog have come to trust her balanced approach, which explains the science that lies behind headlines. The Science of Mom is a fascinating, eye-opening, and extremely informative exploration of the topics that generate discussion and debate in the media and among parents. From breastfeeding to vaccines to sleep, Alice's advice will help you make smart choices so that you can relax and enjoy your baby.
Praise For The Science of Mom: A Research-Based Guide to Your Baby's First Year…
Finally, someone has brought some science―and some sense―to the mommy wars. Should be required reading for all new (and old) parents.
(Emily Oster, Brown University, author of Expecting Better: Why the Conventional Pregnancy Wisdom Is Wrong―And What You Really Need to Know)

Alice Callahan has written a breakthrough book, combining the compassion, warmth, and angst of a mother with the measured reasoning of a scientist. She helps parents not only understand how science works, but how they can access that science to answer their questions. She's found a way to access the scientist in all of us.
(Paul A. Offit, MD, The Children's Hospital of Philadelphia)

Yes! An easy-to-read, fascinating, nuanced review of the science behind new parents' biggest health questions. Many of these issues―infant sleep, breastfeeding, vaccines―have or will hit your 'Should I panic?' button. With gentle guidance, Alice Callahan puts your fears to rest.
(Tracy Cutchlow, author of Zero to Five: 70 Essential Parenting Tips Based on Science (and What I've Learned So Far))

Too many of today's parents treat science as a weapon, using it to justify some choices and condemn others. Yet, most don't fully understand what science can and cannot tell us. By giving parents a comprehensive understanding of how science relates to parenting, Alice Callahan has helped us turn this weapon into a tool for peace. Callahan untangles basic scientific concepts, reveals the realities and limitations of research, and advocates for a measured approach to parenting science that eschews absolutes and acknowledges nuance. The Science of Mom is a rare gem in the parenting canon―smart, sensitive, and a lifesaver for a generation of parents caught in the nebulous spider's web of Internet 'wisdom.'
(Suzanne Barston, author of Bottled Up: How the Way We Feed Babies Has Come to Define Motherhood, and Why It Shouldn't)

Families routinely search for health information. The Science of Mom makes it easy collecting evidence for health decisions and putting it into perspective with a mom-to-mom connection. Callahan's advice is thoughtful, backed by science and feels fueled of love. She is willing to provide powerful advice when detailing the science and safety of vaccines. Keep this book in arm's reach as you support your infant for calm and direction.
(Wendy Sue Swanson, MD, MBE, FAAP, Seattle Children's Hospital, author of Mama Doc Medicine: Finding Calm and Confidence in Parenting, Child Health, and Work-Life Balance)

Fascinating! Think of all the controversial, hot-button topics that parents obsess about in a child's first year―from vaccines and feeding, bed-sharing to sleep training. Weighing the scientific evidence, Callahan offers balanced insights and in-depth answers―a far cry from the oversimplified advice prescribed by many 'parenting experts.' The result: a must-have guide that's substantive and extremely engaging.
(Jena Pincott, author of Do Chocolate Lovers Have Sweeter Babies? The Surprising Science of Pregnancy)
Johns Hopkins University Press, 9781421417325, 304pp.
Publication Date: September 1, 2015
About the Author
Alice Callahan holds a PhD in nutritional biology from the University of California, Davis, and spent two years investigating fetal physiology as a postdoctoral scholar. After giving birth to her first child in 2010, she put her scientific training to work answering the big questions of caring for a baby. The creator of the blog Science of Mom: The Heart and Science of Parenting, she writes and teaches in Eugene, Oregon.
Coverage from NPR
or
Not Currently Available for Direct Purchase