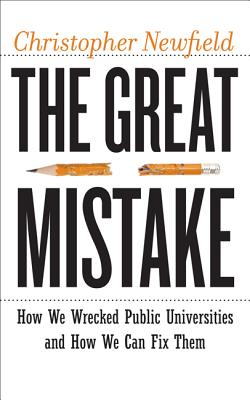 The Great Mistake
How We Wrecked Public Universities and How We Can Fix Them (Critical University Studies)
Hardcover

* Individual store prices may vary.
Other Editions of This Title:
Paperback (10/1/2018)
Description
Higher education in America, still thought to be the world leader, is in crisis. University students are falling behind their international peers in attainment, while suffering from unprecedented student debt. For over a decade, the realm of American higher education has been wracked with self-doubt and mutual recrimination, with no clear solutions on the horizon. How did this happen? In this stunning new book, Christopher Newfield offers readers an in-depth analysis of the "great mistake" that led to the cycle of decline and dissolution, a mistake that impacts every public college and university in America. What might occur, he asserts, is no less than locked-in economic inequality and the fall of the middle class.
In The Great Mistake, Newfield asks how we can fix higher education, given the damage done by private-sector models. The current accepted wisdom--that to succeed, universities should be more like businesses--is dead wrong. Newfield combines firsthand experience with expert analysis to show that private funding and private-sector methods cannot replace public funding or improve efficiency, arguing that business-minded practices have increased costs and gravely damaged the university's value to society.
It is imperative that universities move beyond the destructive policies that have led them to destabilize their finances, raise tuition, overbuild facilities, create a national student debt crisis, and lower educational quality. Laying out an interconnected cycle of mistakes, from subsidizing the private sector to "the poor get poorer" funding policies, Newfield clearly demonstrates how decisions made in government, in the corporate world, and at colleges themselves contribute to the dismantling of once-great public higher education. A powerful, hopeful critique of the unnecessary death spiral of higher education, The Great Mistake is essential reading for those who wonder why students have been paying more to get less and for everyone who cares about the role the higher education system plays in improving the lives of average Americans.
Johns Hopkins University Press, 9781421421629, 448pp.
Publication Date: November 15, 2016
About the Author
Christopher Newfield is a professor of literature and American studies at the University of California, Santa Barbara. He is the author of Unmaking the Public University: The Forty-Year Assault on the Middle Class and Ivy and Industry: Business and the Making of the American University, 1880-1980.
or
Not Currently Available for Direct Purchase