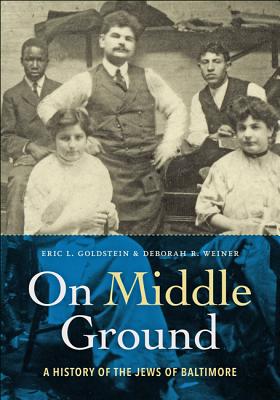 On Middle Ground
A History of the Jews of Baltimore
Hardcover

* Individual store prices may vary.
Description
A model of Jewish community history that will enlighten anyone interested in Baltimore and its past.
Winner of the Southern Jewish Historical Society Book Prize by the Southern Jewish Historical Society; Finalist of the American Jewish Studies Book Award by the Jewish Book Council National Jewish Book Awards
In 1938, Gustav Brunn and his family fled Nazi Germany and settled in Baltimore. Brunn found a job at McCormick's Spice Company but was fired after three days when, according to family legend, the manager discovered he was Jewish. He started his own successful business using a spice mill he brought over from Germany and developed a blend especially for the seafood purveyors across the street. Before long, his Old Bay spice blend would grace kitchen cabinets in virtually every home in Maryland. The Brunns sold the business in 1986. Four years later, Old Bay was again sold--to McCormick.
In On Middle Ground, the first truly comprehensive history of Baltimore's Jewish community, Eric L. Goldstein and Deborah R. Weiner describe not only the formal institutions of Jewish life but also the everyday experiences of families like the Brunns and of a diverse Jewish population that included immigrants and natives, factory workers and department store owners, traditionalists and reformers. The story of Baltimore Jews--full of absorbing characters and marked by dramas of immigration, acculturation, and assimilation--is the story of American Jews in microcosm. But its contours also reflect the city's unique culture.
Goldstein and Weiner argue that Baltimore's distinctive setting as both a border city and an immigrant port offered opportunities for advancement that made it a magnet for successive waves of Jewish settlers. The authors detail how the city began to attract enterprising merchants during the American Revolution, when it thrived as one of the few ports remaining free of British blockade. They trace Baltimore's meteoric rise as a commercial center, which drew Jewish newcomers who helped the upstart town surpass Philadelphia as the second-largest American city. They explore the important role of Jewish entrepreneurs as Baltimore became a commercial gateway to the South and later developed a thriving industrial scene.
Readers learn how, in the twentieth century, the growth of suburbia and the redevelopment of downtown offered scope to civic leaders, business owners, and real estate developers. From symphony benefactor Joseph Meyerhoff to Governor Marvin Mandel and trailblazing state senator Rosalie Abrams, Jews joined the ranks of Baltimore's most influential cultural, philanthropic, and political leaders while working on the grassroots level to reshape a metro area confronted with the challenges of modern urban life.
Accessibly written and enriched by more than 130 illustrations, On Middle Ground reveals that local Jewish life was profoundly shaped by Baltimore's "middleness"--its hybrid identity as a meeting point between North and South, a major industrial center with a legacy of slavery, and a large city with a small-town feel.
Johns Hopkins University Press, 9781421424521, 400pp.
Publication Date: March 28, 2018
About the Author
Eric L. Goldstein is the Judith London Evans Director of the Tam Institute for Jewish Studies at Emory University, where he is an associate professor of history and Jewish studies. He is the author of The Price of Whiteness: Jews, Race, and American Identity. Deborah R. Weiner is an independent historian who works as a consultant with museums, historical societies, and other institutions. She is the author of Coalfield Jews: An Appalachian History.
or
Not Currently Available for Direct Purchase