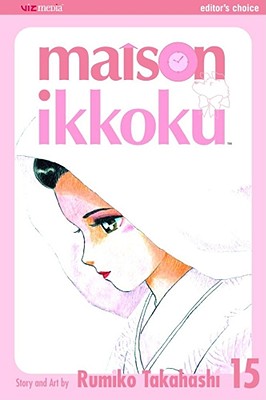 Maison Ikkoku, Vol. 15
Paperback

* Individual store prices may vary.
Description
From the creator of RANMA 1/2 and INUYASHA comes one of Rumiko Takahashi's most beloved series, the romantic (sort of) comedy MAISON IKKOKU, re-presented in a second edition in its original episodic order, with a missing episode Take a trip down memory lane back into Japan's nuttiest apartment house and meet its volatile inhabitants: Kyoko, the beautiful and mysterious new apartment manager; Yusaku, the exam-addled college student; Mrs. Ichinose, the drunken gossip; Kentaro, her bratty son; Akemi, the boozy bar hostess who runs around the house in flimsy lingerie; and the mooching and peeping Mr. Yotsuya.
Viz Media, 9781421502793, 208pp.
Publication Date: February 1, 2006
About the Author
Author and artist Rumiko Takahashi, the world's most popular and prolific female manga creator, has a large, devoted international fan base. Over 100 million copies of her work, such as URUSEI YATSURA, MAISON IKKOKU, RANMA 1/2 and MERMAID SCAR, have been sold worldwide. Takahashi's works have been the basis for four long-running animated series and over eight animated movies.Other Rumiko Takahashi series available from VIZ- Inuyasha - anime, manga and ani-manga- Maison Ikkoku - anime and manga- Mermaid Scar - manga- Ranma 1/2 - anime and manga
or
Not Currently Available for Direct Purchase