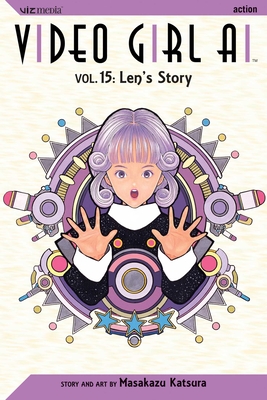 Video Girl Ai, Vol. 15
Paperback

* Individual store prices may vary.
Other Editions of This Title:
Paperback (7/1/2005)
Paperback (10/11/2005)
Paperback (1/10/2006)
Paperback (1/11/2005)
Description
High-school student Yota Moteuchi is so unpopular that his classmates have given him the nickname Dateless. So it's no surprise when the love of his life, Moemi, is not interested in Yota but instead is in love with Yota's best friend, Takashi. Yota turns to a video rental shop for comfort, but little did he suspect that the shop was magical and that the cute girl on his rented tape would pop out of the television and try to fix his ruined love life Final Cut Ugly rumors about Ayumi's past continue to fly around the school, threatening to create a rift between Ayumi and Hiromu. Will Len's attempts to smooth things over backfire, sending Ayumi back into the arms of her creepy ex-boyfriend? Don't miss the grand finale of the Video Girl series, including a bonus short story.
Viz Media, 9781421502953, 208pp.
Publication Date: April 1, 2006
About the Author
Known among anime circles as the character designer for IRIA: ZEIRAM THE ANIMATION, Katsura is also a popular manga artist. His works, from the story of an unlikely superhero in WINGMAN to the saga of a girl who gains powers from magic eyeshadow in SHADOW LADY, display a quirky sense of humor and a fondness for O. Henry-like plot twists. Katsura is also celebrated in fan circles as an artist with a hand for lush screen-tones and an unparalleled eye for nubile young ladies, best noted in the shapely Iria-like bounty hunter in his manga D.N.A.2 (D.N.A. squared).
or
Not Currently Available for Direct Purchase