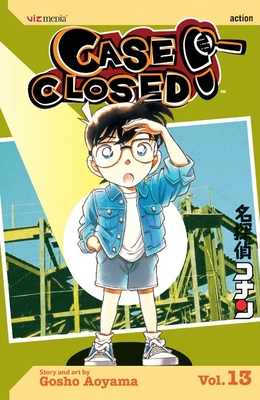 Case Closed, Vol. 13 (Paperback)
VIZ Media LLC, 9781421504438, 208pp.
Publication Date: September 19, 2006
* Individual store prices may vary.
Description
High-school mystery fan Shin'ichi Kudo is actually one of his high school's best minds, but he gets his reality checks from his childhood friend and almost-girlfriend Ran Mori. Nothing can keep Shin'ichi from a case, until he follows a suspicious man into a park, is accosted from behind and fed a strange chemical which renders him unconscious. When he awakens, he has been transformed into a puny grade schooler! The hapless boy finds a home with eccentric inventor Professor Agasa, who searches for a cure for his condition. While he's waiting to be restored to his adolescence, Shin'ichi takes on the name Conan Edogawa (borrowed from Sir Arthur Conan Doyle and the last name of the famous Japanese mystery writer Edogawa Ranpo). As Conan, he plays the part of the little brother that Ran never had, and helps her incompetent private-detective father solve all of the gruesome murder mysteries that come their way.
About the Author
Gosho Aoyama, made his debut in 1992 with CHOTTO MATTE ("Wait a minute") which won Shogakukan's prestigious Shinjin Comic Taisho ("Newcomer's Award for Comics") and launched his career as a critically acclaimed, top-selling manga artist. In addition to DETECTIVE CONAN which won the Shogakukan Award for best Manga in 2001, Aoyama created the popular manga, YAIBA, which won Shogakukan's Award for Manga in 1992. Aoyama's manga is greatly influenced by his boyhood love for mystery, adventure, and baseball and he has cited the tales of Arsene Lupin, Sherlock Holmes, and the samurai films of Akira Kurosawa as some of his childhood favorites.