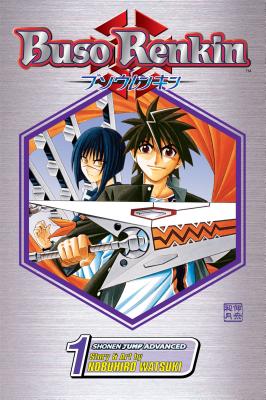 Buso Renkin, Vol. 1
Paperback

* Individual store prices may vary.
Description
High school students heroic act turns into epic human vs. monster sword fight!

Buso Renkin is the story of teenager Kazuki Muto, who dies trying to save a girl who was being attacked by an eerie monster. The next morning, however, Kazuki is left wondering whether it was all a dream. Lo and behold, the girl, the monster, and his death are all real! The girl, Tokiko Tsumura, was actually trying to slay the homunculus (a beast that can take the form of humans, and whose main source of food is people), but Kazuki got in her way. To revive Kazuki, Tokiko replaces his heart with a "kakugane," an alchemic device that allows him to summon a lance with which to fight the monsters. It turns out that Tokiko is a member of the Alchemist Warriors, an organization sworn to protect the world from the diabolical creatures. Soon, Kazuki joins Tokiko in her quest to terminate the sinister being that creates and controls the homunculus.

Talk about being at the wrong place at the wrong time! High school student Kazuki Muto had no clue what he was in for when he rescued damsel in distress Tokiko from a monster known as a "homunculus." Disguised as humans--who actually eat humans--homunculi are malevolent creatures that affix themselves to people's brains, and once fully grown, the only thing that can annihilate them is a weapon called Buso Renkin!

Follow the adventures of Kazuki after he discovers that it was actually Tokiko who saved his life by implanting a kakugane--an alchemical device that transforms into a buso renkin--to replace his heart!
VIZ Media LLC, 9781421506159, 192pp.
Publication Date: August 1, 2006
About the Author
Rurouni Kenshin, which has found fans not only in Japan but around the world, first made its appearance in 1992 as an original short story in Weekly Shonen Jump Special. Later rewritten and published as a regular, continuing Jump series in 1994, Rurouni Kenshin ended serialization in 1999 but continued in popularity, as evidenced by the 2000 publication of Yahiko no Sakabatô (Yahiko's Reversed-Edge Sword) and the 2015 publication of Rurouni Kenshin: Restoration in Weekly Shonen Jump. The series has also inspired novels, anime and films. Watsuki is also the author of the popular series Buso Renkin, published by VIZ Media.
or
Not Currently Available for Direct Purchase