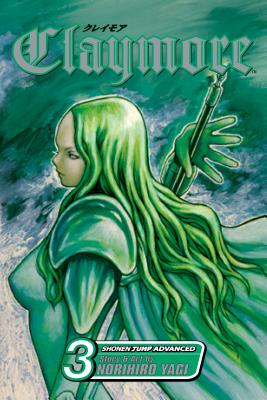 Claymore, Vol. 3 (Paperback)
VIZ Media LLC, 9781421506203, 208pp.
Publication Date: August 1, 2006
* Individual store prices may vary.
Description
A Claymore - a female warrior named for the sword she carries - travels from medieval village to village to destroy Yoma, monsters who disguise themselves as humans and who are almost impossible to kill. Claymores are half-humans, half-demons who willingly transformed themselves by mixing their blood with monster's blood. Claire, nicknamed silver-eyed killer, is such a powerful Claymore, she can slay a Yoma using only one hand. But she must constantly struggle to keep from becoming a monster herself.
About the Author
- Born in Okinawa, 1968. Blood type A. Male.
- Won the 32nd Akatsuka Award with his debut work "UNDEADMAN"
- "UNDEADMAN" and its 2 sequels appeared in Monthly Shonen Jump
Magazine, gaining readers' popularity
- His first serialization was "Angel Densetsu (Angel Legend)", a popular
comedy series which ran in Monthly Shonen Jump from 1992-2000.
- The serialization of "Claymore" began in 2001. In contrast to his
previous work (Angel Legend), "Claymore" is a grand epic saga.
- Things he likes (he said those are not his hobbies):
Comedians (like Downtown), martial art, games, driving, and hardrock for
music.