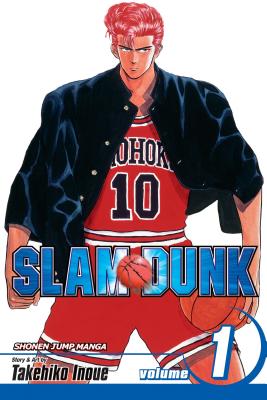 Slam Dunk, Volume 1 [With Sticker] (Paperback)
Viz Media, 9781421506791, 208pp.
Publication Date: September 1, 2008
Description
Basketball. The court, the ball, the hoop. The hopes, the dreams, the sweat. It takes dedication and discipline to be the best, and the Shohoku High hoops team wants to be just that--the best. They have one last year to make their captain's dream of reaching the finals come true--will they do it? Takehiko Inoue's legendary basketball manga is finally here, and the tale of a lifetime is in your hands Sakuragi Hanamichi's got no game with girls--none at all It doesn't help that he's known for throwing down at a moment's notice and always coming out on top. A hopeless bruiser, he's been rejected by 50 girls in a row All that changes when he meets the girl of his dreams, Haruko, and she's actually not afraid of him When she introduces him to the game of basketball, his life is changed forever...
About the Author
Takehiko Inoue was born in Kagoshima prefecture in 1967. His first major success -- the hugely popular 31-volume long basketball manga SLAM DUNK -- sold over 100 million copies worldwide and catapulted him into the top ranks of Japanese manga artists. Besides manga, Inoue also worked on character design for the Playstation basketball game ONE ON ONE.
Advertisement