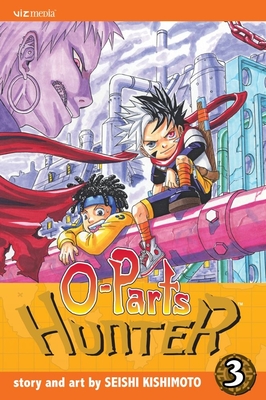 O-Parts Hunter, Vol. 3
Paperback

* Individual store prices may vary.
Other Editions of This Title:
Paperback (12/1/2006)
Paperback (10/13/2009)
Paperback (12/1/2007)
Paperback (2/1/2009)
Paperback (8/14/2007)
Paperback (2/13/2007)
Paperback (6/12/2007)
Paperback (10/1/2007)
Paperback (6/1/2008)
Paperback (8/11/2009)
Paperback (12/1/2008)
Paperback (6/9/2009)
Paperback (4/14/2009)
Paperback (10/1/2008)
Description
Ruby's dream: to become a famous treasure hunter. Jio's dream: to rule the world In a not too distant future, mankind battles over O-Parts, powerful relics from an ancient civilization. Jio is a young boy with a tragic past who only trusts one thing in the world: money. Little does he suspect that he is also a very powerful O-Parts Tactician (O.P.T.), and inside him sleeps a demon of incredible ferocity. With his partner, Ruby, Jio embarks on a dangerous quest to acquire as many O-Parts as he can. Jio and his new friend Ball, a member of the resistance group fighting against the corrupt Governor Jaga, are in deep trouble. They've successfully broken into Jaga's lair, but are they strong enough to survive a battle with the notorious criminal Wise Yury? Later, Ruby learns more about her father and the secret origin of the pendant he gave her before his mysterious disappearance. Could Ruby's seemingly unimpressive trinket actually be one of the most powerful O-Parts of all?
Viz Media, 9781421508573, 188pp.
Publication Date: April 10, 2007
About the Author
Seishi Kishimoto is from Okayama prefecture and debuted with the manga Trigger. O-Parts Hunter is his most popular work to date.