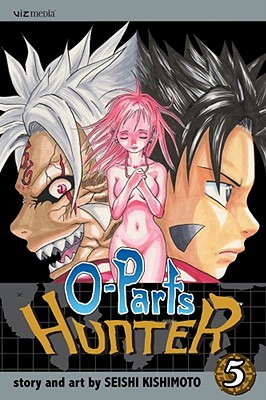 O-Parts Hunter, Vol. 5
Paperback

* Individual store prices may vary.
Other Editions of This Title:
Paperback (12/1/2007)
Paperback (2/1/2009)
Paperback (10/13/2009)
Paperback (10/1/2008)
Paperback (4/14/2009)
Paperback (6/9/2009)
Paperback (4/10/2007)
Paperback (12/1/2008)
Paperback (6/12/2007)
Paperback (6/1/2008)
Paperback (12/1/2006)
Paperback (2/13/2007)
Paperback (8/11/2009)
Paperback (10/1/2007)
Description
Ruby's dream: to become a famous treasure hunter. Jio's dream: to rule the world In a not too distant future, mankind battles over O-Parts, powerful relics from an ancient civilization. Jio is a young boy with a tragic past who only trusts one thing in the world: money. Little does he suspect that he is also a very powerful O-Parts Tactician (O.P.T.), and inside him sleeps a demon of incredible ferocity. With his partner, Ruby, Jio embarks on a dangerous quest to acquire as many O-Parts as he can. Jio's friend Ball always dreamed of being strong--strong enough to help the resistance movement stop the maniacal governor Jaga who has a stranglehold on his hometown, and strong enough to defend his friends and his sister. Now that he too is an O.P.T., it looks like Ball might stand a chance Can he, a novice when it comes to O-Parts, defeat a powerful member of the Zenom syndicate single-handed?
Viz Media, 9781421508597, 189pp.
Publication Date: August 14, 2007
About the Author
Seishi Kishimoto is from Okayama prefecture and debuted with the manga Trigger. O-Parts Hunter is his most popular work to date.
or
Not Currently Available for Direct Purchase