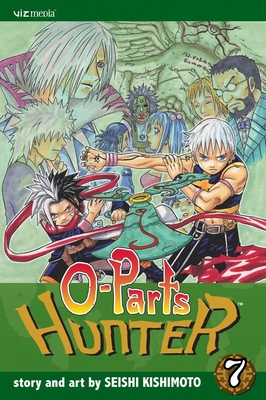 O-Parts Hunter, Vol. 7
Paperback

* Individual store prices may vary.
Other Editions of This Title:
Paperback (12/1/2006)
Paperback (10/13/2009)
Paperback (2/1/2009)
Paperback (8/14/2007)
Paperback (4/10/2007)
Paperback (2/13/2007)
Paperback (6/12/2007)
Paperback (10/1/2007)
Paperback (6/1/2008)
Paperback (8/11/2009)
Paperback (12/1/2008)
Paperback (6/9/2009)
Paperback (4/14/2009)
Paperback (10/1/2008)
Description
Ruby's dream: to become a famous treasure hunter. Jio's dream: to rule the world In a not too distant future, mankind battles over O-Parts, powerful relics from an ancient civilization. Jio is a young boy with a tragic past who only trusts one thing in the world: money. Little does he suspect that he is also a very powerful O-Parts Tactician (O.P.T.), and inside him sleeps a demon of incredible ferocity. With his partner, Ruby, Jio embarks on a dangerous quest to acquire as many O-Parts as he can. Now that peace has returned to Entotsu City, Jio, Ruby and Ball strike out for the Dastom Ruins where they are told to search for a man named Wick--but the revelations Wick is about to share with them will be anything but easy to swallow. Is it true that O-Parts are originally from another planet far, far away? And is Jio now strong enough to survive his next run-in with the ruthless Zenom Syndicate?
Viz Media, 9781421508610, 192pp.
Publication Date: December 1, 2007
About the Author
Seishi Kishimoto is from Okayama prefecture and debuted with the manga Trigger. O-Parts Hunter is his most popular work to date.