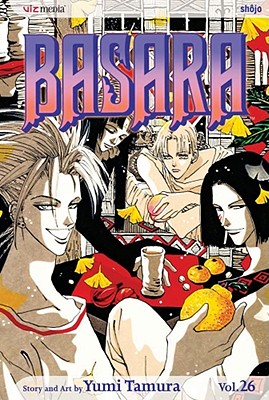 Basara, Volume 26
Paperback

* Individual store prices may vary.
Description
Sometimes destiny is a choice. Born under a prophecy that will liberate and unite Japan, Sarasa has had to take her brother Tatara's place as the Boy of Destiny. Fighting for the oppressed, Sarasa journeys across Japan to gain allies and defeat her enemies--all while keeping her identity a secret Sarasa's quest for freedom has ended, but Basara isn't over yet In this volume of special side stories, Yumi Tamura goes deeper than ever before to explore the characters and world of Basara. Hijiri and Nachi recount childhood memories of ships, sea monsters and mermaids. A band of star-crossed rebels arises in another time--and changes the course of Sarasa's battle. And Tatara finds his new calling...as a pop star?
Viz Media, 9781421509839, 192pp.
Publication Date: February 1, 2008
About the Author
Yumi Tamura broke into the manga world with a bang, winning the 1983 Shogakukan Grand Prize for new artists. Since then she has gone on to write many extremely popular shojo manga stories such as the hit series TOMOE GA YUKU (There Goes Tomoe), ANO NATSU GA OWAITA (That Summer has Ended), and X-DAY. But the title that solidified her reputation as a top shojo manga artist was the breakthrough fantasy/action manga smash BASARA. Always one to experiment in action/adventure formats, CHICAGO is Tamura's latest completed work.