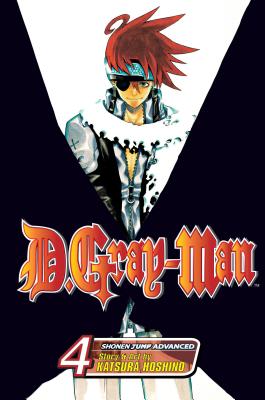 D.Gray-man, Vol. 4
Paperback

* Individual store prices may vary.
Description
A cursed teenage boy saves mankind one soul at a time.

Set in a fictional 19th century England, D.Gray-man is the story of Allen Walker, a 15-year-old boy who roams the earth in search of Innocence. Washed away to unknown parts of the world after The Great Flood, Innocence is the mysterious substance used to create weapons that obliterate demons known as akuma.

Allen starts to question the Black Ministry about the "Clan of Noah" and the reason he became an Exorcist. With his left eye injured and incapable of detecting akuma, he has come to understand the constant fear of not knowing whether the person he is talking to is truly human! Despite his confusion, Allen is sent on a mission to seek out his master, Cross, one of the Marshals of the Black Ministry, and find out why the akuma have suddenly started targeting leaders of the Ministry.
VIZ Media LLC, 9781421510521, 200pp.
Publication Date: February 6, 2007
About the Author
Shiga Prefecture native Katsura Hoshino's hit manga series D.Gray-man has been serialized in Weekly Shonen Jump since 2004. Katsura's debut manga, "Continue," appeared for the first time in Weekly Shonen Jump in 2003. Katsura adores his cat Coro.