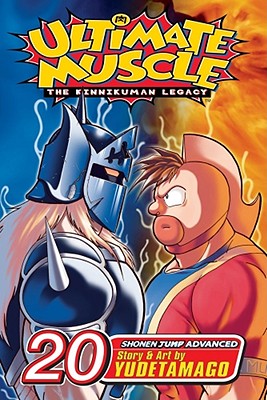 Ultimate Muscle, Vol. 20 (Ultimate Muscle (Paperback)
The Kinnikuman Legacy #20)
Viz Media, 9781421511054, 207pp.
Publication Date: July 1, 2008
* Individual store prices may vary.
Description
- An ongoing manga series in Japan--29 volumes released to date in Japan, with over 8 million copies sold to date
- Currently airing on Fox Box, with merchandise support from Namco/Bandai (videogames, action figures).
- Inspired an anime TV series, action figures, and video games in Japan Intergalactic rasslin' action with Kid Muscle and the wildest wrestlers in the universe What do you do when a team of evil super-powered wrestlers from another planet threatens the health and safety of the Earth? Organize a team of GOOD super-powered wrestlers, of course It's finally arrived. The moment that superhuman wrestling fans have awaited with bated breath. The climax of the Superhuman Olympics Kid Muscle and Kevin Mask are facing off, one on one, mano e mano, in the squared circle. There are, of course, complications. Kid Muscle's manager, Meat, is out of the picture, having heroically but inconveniently injured himself at ringside. The Kid manages to dig up a replacement, but can the dude he defeated in his first Olympic match really help him win his last? Then there's the little matter of the nigh-invincible power Kevin Mask has been displaying lately, which bears an uncomfortable resemblance to Kid Muscle's Fire. And just when Kid Muscle thinks things can't get any worse, his dad shows up...
About the Author
Yudetamago is the pen name of artists Yoshinori Nakai and Takashi Shimada, who created the original hit KINNIKUMAN (MUSCLE MAN). KINNIKUMAN, which debuted in 1979, quickly grew into a massive slapstick wrestling epic and one of the most popular features in Japan's Weekly Shonen Jump magazine. ULTIMATE MUSCLE (known in Japan as KINNIKUMAN II SEI) is Yudetamago's most recent creation.
or
Not Currently Available for Direct Purchase