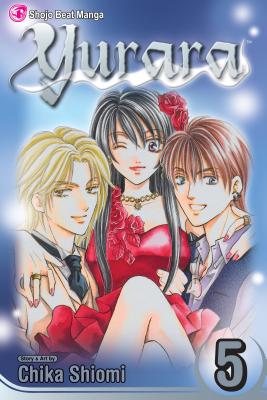 Yurara, Volume 5 (Paperback)
Viz Media, 9781421513546, 192pp.
Publication Date: June 1, 2008
* Individual store prices may vary.
Description
- A 5-volume manga series
- The first two volumes of Yurara have already sold through 12k units in the U.S. to date.
- Originally serialized in Japan's manga anthology Bessatsu Hana to Yume
- Inspired merchandise in Japan: book card, QUO card, telephone card
- Previewed and promoted in Shojo Beat magazine
- A supernatural love story
- Translated into Chinese, Korean & Thai. When a young girl is called to fight evil spirits, she finds incredible strength within herself and incredible love from without. Yurara Tsukinowa is a quiet girl who can see spirits and sense their emotions. Not wanting to seem abnormal, she hides her secret until she meets Mei Tendo and Yako Hoshino, two guys who use their spiritual powers to ward off vengeful spirits. The dormant guardian spirit in Yurara arises and a strong-willed beauty with the power to release souls emerges When Mei and Yako realize their rivalry is tearing Yurara apart, Mei makes a fateful decision. But is his choice really the right one? Soon Yurara will have to trust her own strength when evil spirits threaten those she loves. Don't miss the exciting conclusion of Yurara.
About the Author
Chika Shiomi lives in the Aichi Prefecture of Japan. She debuted with the manga Todokeru Toki o Sugitemo (Even if the Time for Deliverance Passes), and her work is currently running in two magazines, Bessatsu Hana to Yume and Mystery Bonita. She loves reading manga, traveling, and listening to music by Aerosmith, Hyde, and Guns N Roses. Her favorite artists include Michelangelo, Hokusai, Bernini, and Gustav Klimt.