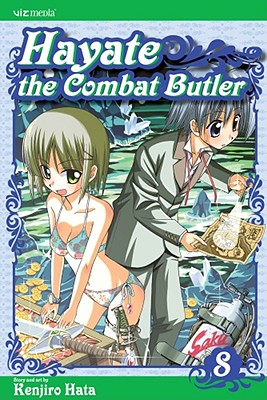 Hayate the Combat Butler, Vol. 8 (Paperback)
VIZ Media LLC, 9781421516837, 200pp.
Publication Date: August 12, 2008
Other Editions of This Title:
Paperback (9/9/2014)
Paperback (9/8/2015)
Paperback (2/10/2015)
Paperback (2/9/2016)
Paperback (9/13/2016)
Paperback (2/11/2014)
Paperback (6/15/2010)
Paperback (2/12/2013)
Paperback (9/11/2012)
Paperback (2/7/2012)
Paperback (9/13/2011)
Paperback (3/8/2011)
Paperback (8/11/2009)
Paperback (2/14/2017)
Paperback (11/10/2009)
Paperback (2/12/2008)
Paperback (5/13/2008)
Paperback (9/14/2010)
Paperback (4/13/2010)
* Individual store prices may vary.
Description
• Wildly popular on internet fansites.
• An ongoing manga series in Japan—over eight volumes released to date.
• A rollicking comic series filled with the sort of hijinks found in the likes of classic Ranma 1/2

Since the tender age of nine, Hayate Ayasaki has busted his behind at various part-time jobs to support his degenerate gambler parents. And how do they repay their son's selfless generosity? By selling his organs to the yakuza to cover their debts! But fate throws Hayate a bone...sort of.



For reasons of no major concern or importance, butler-in-debt Hayate has to leave the Sanzenin mansion for a three-day, two-night trip. Though he has no particular place to go or reason to be there, Hayate does have one thing that's rarely in his possession: money (one million yen from Maria, to be exact). Well, he thought he had some money. Steering clear of gambling should be easy enough, but will cash-strapped classmates and impromptu medical bills leave Hayate's billfold as bleak and barren as his future?
About the Author
Hayate the Combat Butler is Kenjiro Hata's first manga series. He debuted with Kamisama ni Rocket Punch. He is a big fan of classic children's stories such as Frances Hodgson Burnett's Little Lord Fauntleroy and A Little Princess.
or
Not Currently Available for Direct Purchase