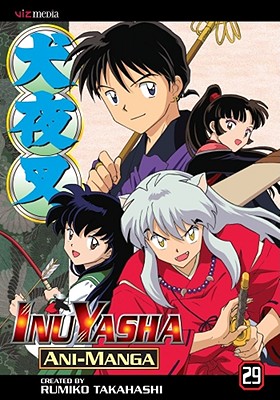 Inuyasha Ani-Manga, Vol. 29
Paperback

* Individual store prices may vary.
Other Editions of This Title:
Paperback (8/14/2007)
Paperback (8/1/2006)
Paperback (12/1/2006)
Paperback (12/1/2005)
Paperback (8/1/2005)
Paperback (2/9/2005)
Paperback (12/1/2008)
Paperback (12/1/2004)
Paperback (4/1/2006)
Paperback (12/1/2007)
Paperback (2/13/2007)
Paperback (6/1/2006)
Paperback (9/7/2004)
Paperback (1/14/2004)
Description
Kagome seems like an ordinary high school girl...until she's transported to medieval Japan and discovers that her destiny links her to the powerful Jewel of Four Souls nad to a half-man, half-dog-demon named Inuyasha Sensing a great demonic presence, Inuyasha and the others follow it, hoping it will lead them to Naraku. Instead, they find themselves at a castle being haunted by a giant demon's floating head At first, the group decides to help rid the castle of the demon and quickly go on their way. But when Miroku learns of the beautiful princess residing there, plans quickly change, much to Sango's chagrin... Kagome is a modern Japanese high school girl. Never the type to believe in myths and legends, her world view dramatically changes when, one day, she's pulled out of her own time and into another There, in Japan's ancient past, Kagome discovers more than a few of those dusty old legends are true, and that her destiny is linked to one legendary creature in particular--the dog-like half-demon called Inuyasha That same trick of fate also ties them both to the Shikon Jewel, or "Jewel of Four Souls." But demons beware...the smallest shard of the Shikon Jewel can give the user unimaginable power.
Viz Media, 9781421516875, 210pp.
Publication Date: October 1, 2008
About the Author
Author and artist Rumiko Takahashi, the world's most popular and prolific female manga creator, has a large, devoted international fan base. Over 100 million copies of her work, such as Urusei Yatsura, Maison Ikkoku, Ranma 1/2 and Mermaid Saga--all available from VIZ Media--have been sold worldwide. Takahashi's works have been the basis for four long-running animated series and over eight animated movies.