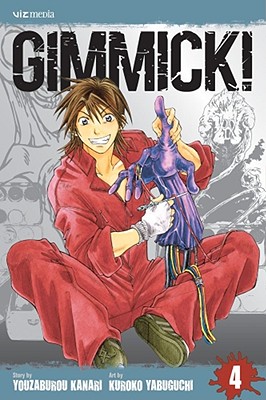 Gimmick!, Vol. 4 (Gimmick (Viz) #4) (Paperback)
Viz Media, 9781421517810, 210pp.
Publication Date: December 1, 2008
* Individual store prices may vary.
Description
Kohei Nagase is a genius when it comes to makeup and special effects. He uses his skills to expertly disguise people from the press, criminals, or anyone wanting to do them harm. When they agreed to help protect endangered railway heiress Kasumi Kobayakawa from her scheming uncle, Kohei and his buddy Kannazuki never imagined that they'd be the ones in need of rescuing--least of all from the captain of a fishing boat. Will some of Kohei's impromptu FX magic help lure the real villain out into the open? Later, a young, wannabe special effects artist is caught in the middle of a gun-smuggling scheme revolving around a prop weapon that's been modified to fire real bullets. Kohei takes the young boy under his wing and agrees to teach him a thing or two about how to use special effects to get out of tough situations. Trouble with the wrong side of the law? Paparazzi won't leave you alone? Found yourself in a tight spot and you don't know where to go? Then it's time to get in touch with Kohei Nagase and his friends at Studio Gimmick. A prodigy in the realm of makeup and special effects, Kohei has got the skills to make sure that the people you don't want recognizing you won't.
About the Author
Kanari has written many manga stories, including the mystery series Kindaichi Case Files and the school horror series Uroborosu no Wa. His previous series, Mystery Minzoku Gakusha Yakumoitsuki, is well known in Japan and was even made into a live action television drama.
or
Not Currently Available for Direct Purchase