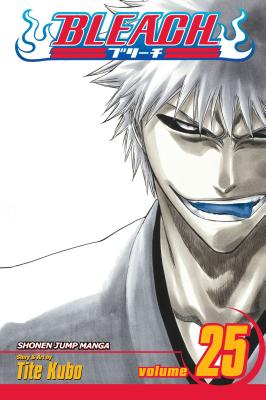 Bleach, Volume 25 (Paperback)
Viz Media, 9781421517964, 210pp.
Publication Date: December 1, 2008
Description
Cleaning up the afterlife - one spirit at a time R to L (Japanese Style). Cleaning up the afterlife - one spirit at a time Ichigo Kurosaki never asked for the ability to see ghosts--he was born with the gift. When his family is attacked by a Hollow--a malevolent lost soul--Ichigo becomes a Soul Reaper, dedicating his life to protecting the innocent and helping the tortured spirits themselves find peace. Find out why Tite Kubo's Bleach has become an international manga smash-hit No Shaking Throne Ichigo's recent battles with the Arrancars have proven that if he wants to protect his friends he must get stronger, and the only way to do that is to control his inner Hollow. Ichigo turns to the Vizards, ex-Soul Reapers who have been Hollowfied, to teach him. But before his training begins, Ichigo must do battle against his Hollow self--winner takes his soul
About the Author
Bleach is author Tite Kubo's second title. Kubo made his debut with ZombiePowder, a four-volume series for Weekly Shonen Jump. To date, Bleach has been translated into numerous languages and has also inspired an animated TV series that began airing in Japan in 2004. Beginning its serialization in 2001, Bleach is still a mainstay in the pages of Weekly Shonen Jump. In 2005, Bleach was awarded the prestigious Shogakukan Manga Award in the shonen (boys) category.
Advertisement