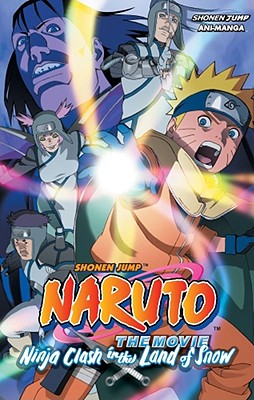 Naruto the Movie Ani-Manga, Vol. 1 (Paperback)
Ninja Clash in the Land of Snow
Viz Media, 9781421518688, 200pp.
Publication Date: October 1, 2007
Other Editions of This Title:
Paperback (11/1/2008)
Paperback (11/1/2008)
* Individual store prices may vary.
Description
Naruto and Squad Seven are assigned to an A-ranked mission to protect popular actress, Yukie Fujikaze. They head towards the filming location in Yukinokuni (land of snow), where three snow ninjas wearing the karakuri-shikake-no-yori await Why are they after Yukie? And will Naruto and his team be able to protect her and escape? Yukinokuni is controlled by the Kazebana Doto, who took power after leading a rebellion. Yukie, who survived the upheaval, is the true heir to the land. She is the Koyukihime Princess. She is captured and taken aaway by Doto, along with the six-sided crystal, the key to the treasures - but not without Naruto in pursuit. Now in enemy territory, his Chakra is suppressed leaving him in a desperate situation.
About the Author
Masashi Kishimoto made his debut in Weekly Shonen Jump in 1999 with Naruto, Naruto became a big hit with both boys and girls. Kishimoto added a modern flavor to the ancient world of Japanese ninja to make it a popular novel. It will become an anime series airing on Japanese networks this fall. To date, with the release of all 13 volumes of the graphic novel, this title has sold 12 million copies. Kishimoto has received the Hop Step Award.
or
Not Currently Available for Direct Purchase