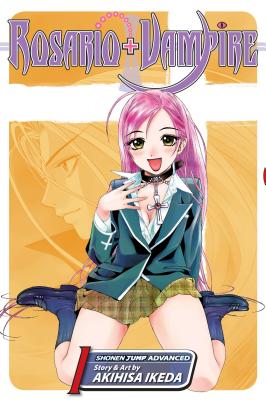 Rosario+Vampire, Vol. 1 (ROSARIO & VAMPIRE #1) (Paperback)
VIZ Media LLC, 9781421519036, 192pp.
Publication Date: June 3, 2008
* Individual store prices may vary.
Description
Tsukune's going to have one heck of a hickey when he gets home from Monster High!

All-around average teenager Tsukune can't get accepted to any high school save one...but on his first day he finds the rest of the student body doesn't appear average at all. Best of all, the cutest girl on campus can't wait to fling her arms around his neck! Wait a sec'--are those her teeth around his neck too...? Tsukune's going to have one heck of a hickey when he gets home from Monster High! But does he have a chance in H E double hockey sticks of raising his grades at a school where the turf war isn't between the jocks and the nerds but the vampires and the werewolves?



LESSON ONE: VAMPIRES QUIZ 1 WHAT'S THE BEST COURSE OF ACTION WHEN A PERT CLASSMATE ATTEMPTS TO SNACK ON YOUR JUGULAR?



a. Run for your life and the sanctity of your soul

b. Invite her out for a strawberry soda, heavy on the syrup

c. Scream like a boy and hide in the principal's office

d. Let her have a few sips while you check out her spectacular quadriceps
About the Author
Akihisa Ikeda was born in 1976 in Miyazaki. He debuted as a mangaka with the four-volume magical warrior fantasy series Kiruto in 2002, which was serialized in Monthly Shonen Jump. Rosario+Vampire debuted in Monthly Shonen Jump in March of 2004 and is continuing in the magazine Jump Square (Jump SQ) as Rosario+Vampire: Season II. In Japan, Rosario+Vampire is also available as a drama CD. In 2008, the story was first released as an anime. Season II is also available as an anime now. And in Japan, there is a Nintendo DS game based on the series. Ikeda has been a huge fan of vampires and monsters since he was a little kid. He says one of the perks of being a manga artist is being able to go for walks during the day when everybody else is stuck in the office.