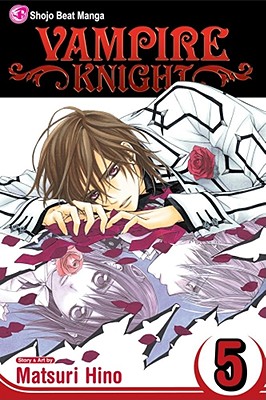 Vampire Knight, Volume 5 (Paperback)
Viz Media, 9781421519548, 208pp.
Publication Date: September 1, 2008
Description
- Vampire Knight is the strongest selling shojo title to debut in 2007.
- Vampire Knight Volume 1 debuted at #7 in its first week of sales in the Graphic Novel Top 50 Rankings (Bookscan 1/7/2007).
- Vampire Knight Volume 1 reached #3 in its third week on sale.
- Vampire Knight Volume 1 and Volume 2 remain in the BookScan's Top 50 Graphic Novels YTD rankings.
- Serialized in Shojo Beat magazine
- A fan-favorite in Japan, currently running in LaLa magazine
- The latest series from the popular creator of MeruPuri, also available from VIZ Media.
- The popular shojo series ranked in Japan's Tohan Top 10. Cross Academy is attended by two groups of students: the Day Class and the Night Class. At twilight, when the students of the Day Class return to their dorm, they cross paths with the Night Class on their way to school. Yuki Cross and Zero Kiryu are the Guardians of the school, protecting the Day Class from the Academy's dark secret: the Night Class is full of vampires Zero is suspected of killing Shizuka Hio, the pureblood vampire who murdered his family. Incensed, the vampire senate sends assassins to Cross Academy to execute him. Will the Night Class intervene, or will Kaname let Zero take the fall?
About the Author
Matsuri Hino burst onto the manga scene with her title Kono Yume ga Sametara (When This Dream Is Over), which was published in LaLa DX magazine. Hino was a manga artist a mere nine months after she decided to become one. With the success of her popular series Toraware no Minoue(Captive Hearts), and MeruPuri, Hino has established herself as a major player in the world of shojo manga. Vampire Knight is currently serialized in LaLa and Shojo Beat magazines.
Advertisement