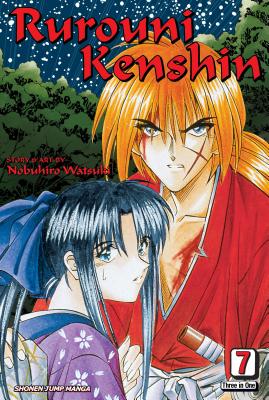 Rurouni Kenshin (VIZBIG Edition), Vol. 7
Remembrance (Rurouni Kenshin VIZBIG Edition #7)
Paperback

* Individual store prices may vary.
Other Editions of This Title:
Paperback (10/12/2004)
Description
Change your perspective: get BIG

Packed with action, romance and historical intrigue, Rurouni Kenshin is one of the most beloved and popular manga series worldwide. Set against the backdrop of the Meiji Restoration, it tells the saga of Himura Kenshin, once an assassin of ferocious power, now a humble rurouni, a wandering swordsman fighting to protect the honor of those in need.

A Collection of Volumes 19 - 21!

In the new Meiji Era, Himura Kenshin uses his reversed-edge sword to protect the lives of those within his reach, but during the chaos and bloodshed of the Bakumatsu, he was a very different man. What is the true story behind the cross-shaped scar Kenshin bears on his face? It is the tale of Himura Tomoe, Kenshin's wife who died at his very hands, and of her brother Enishi, who has devoted his entire existence to the goal of watching Kenshin suffer.

As one of the deadliest hitokiri in Kyoto several years ago, Kenshin served at the pleasure of Katsura Kogorō of Chōshū. One night, Kenshin found himself doing battle with agents of the shōgunate, and a lone woman from a nearby pub witnessed the scene--but she may not have been there entirely by accident. Betrayal, lost love, revenge: such is the nature of Kenshin's past life. Can he reconcile these old memories in time to prevent the carnage that Enishi is about to visit upon the Kamiya Dojo and those dearest to him?
VIZ Media LLC, 9781421520797, 576pp.
Publication Date: September 15, 2009
About the Author
Rurouni Kenshin, which has found fans not only in Japan but around the world, first made its appearance in 1992 as an original short story in Weekly Shonen Jump Special. Later rewritten and published as a regular, continuing Jump series in 1994, Rurouni Kenshin ended serialization in 1999 but continued in popularity, as evidenced by the 2000 publication of Yahiko no Sakabatô (Yahiko's Reversed-Edge Sword) and the 2015 publication of Rurouni Kenshin: Restoration in Weekly Shonen Jump. The series has also inspired novels, anime and films. Watsuki is also the author of the popular series Buso Renkin, published by VIZ Media.