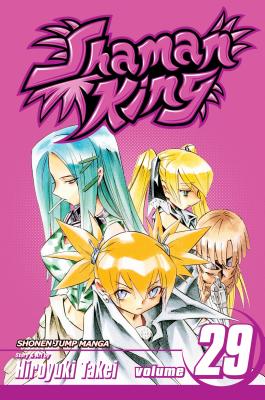 Shaman King, Volume 29 (Paperback)
Viz Media, 9781421521824, 192pp.
Publication Date: July 6, 2010
Description
Every shaman in the world is vying to be the Shaman King Reads R to L (Japanese Style). Every shaman in the world is vying to be the Shaman King The Shaman Fight ShakedownFinally, the shaman slugfest we've all been waiting for: Yoh Asakura vs. Tao Ren Yoh wants to keep the contest clean, but Ren has other ideas. His crew strikes hard and fast and quickly has Team Yoh on the ropes. Get ready for the biggest Shaman King shocker of them all.
About the Author
Unconventional author/artist Hiroyuki Takei began his career by winning the coveted Hop Step Award (for new manga artists) and the Osamu Tezuka Award (named after the famous artist of the same name). After working as an assistant to famed artist Nobuhiro Watsuki, Takei debuted in Weekly Shonen Jump in 1997 with Butsu Zone, an action series based on Buddhist mythology. His multicultural adventure manga Shaman King, which debuted in 1998, became a hit and was adapted into an anime TV series. His new series Ultimo (Karakuri Doji Ultimo) is currently being serialized in the U.S. in SHONEN JUMP. Takei lists Osamu Tezuka, American comics and robot anime among his many influences.
Advertisement