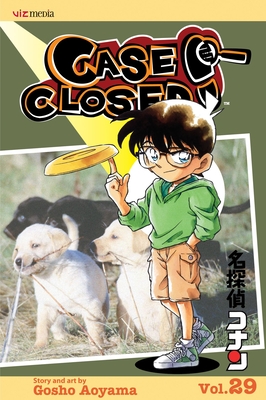 Case Closed, Vol. 29 (Paperback)
Viz Media, 9781421521978, 200pp.
Publication Date: May 19, 2009
* Individual store prices may vary.
Description
R to L (Japanese Style) When ace high school detective Jimmy Kudo is fed a mysterious substance by a pair of nefarious men in black--poof He is physically tranformed into a first grader. Until Jimmy can find a cure for his miniature malady, he takes on the pseudonym Conan Edogawa and continues to solve all the cases that come his way. What Ms. Saintemillion SawConan isn't sure whether to trust Jodie Saintemillion, the American high school teacher whose ditzy blonde exterior conceals a calculating mind. When a bus is hijacked by desperate criminals, Ms. Saintemillion turns out to be cannier than Conan ever imagined, revealing a head for crime solving and a body for kicking butt. But Anita can't help noticing that wherever Conan's beautiful, mysterious new ally goes, the Syndicate never seems to be far behind...
About the Author
Gosho Aoyama, made his debut in 1992 with CHOTTO MATTE ("Wait a minute") which won Shogakukan's prestigious Shinjin Comic Taisho ("Newcomer's Award for Comics") and launched his career as a critically acclaimed, top-selling manga artist. In addition to DETECTIVE CONAN which won the Shogakukan Award for best Manga in 2001, Aoyama created the popular manga, YAIBA, which won Shogakukan's Award for Manga in 1992. Aoyama's manga is greatly influenced by his boyhood love for mystery, adventure, and baseball and he has cited the tales of Arsene Lupin, Sherlock Holmes, and the samurai films of Akira Kurosawa as some of his childhood favorites.