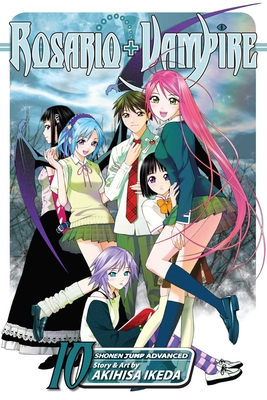 Rosario+Vampire, Volume 10 (Paperback)
Viz Media, 9781421523552, 208pp.
Publication Date: November 3, 2009
Description
Tsukune's new classmates are monsters--really ; At Tsukune's school, the turf war isn't between the jocks and the nerds, it's between the vampires and the werewolves R to L (Japanese Style). LESSON TEN: MAGIC MIRROR QUIZ A MAGIC MIRROR THAT REFLECTS THE TRUE NATURE OF WHOEVER LOOKS INTO IT IS BEST USED TO... a. pop your zits. b. pick your friends. c. devour your soul. All-around average teenager Tsukune can't get accepted to any high school save one...but on his first day, he finds the rest of the student body doesn't appear average in the least. Best of all, the cutest girl on campus can't wait to fling her arms around his neck Wait a sec'--are those her teeth around his neck too...? Tsukune's going to have one heck of a hickey when he gets home from Monster High But does he have a chance in H-E-double-hockey-sticks of raising his grades at a school where the turf war isn't between the jocks and the nerds but the vampires and the werewolves?
About the Author
Akihisa Ikeda was born in 1977 in Miyazaki. He debuted as a mangaka with the four-volume magical warrior fantasy series Kiruto in 1999, which was serialized in Monthly Shonen Jump.Rosario+Vampire first ran in Monthly Shonen Jump, in March 2002.In Japan, Rosario+Vampire is also available as a drama CD.In 2008, the story is scheduled to be made into an anime.
Advertisement