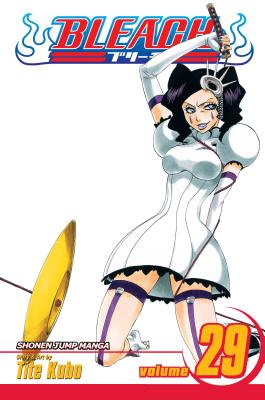 Bleach, Volume 29 (Paperback)
Viz Media, 9781421523873, 208pp.
Publication Date: December 1, 2009
* Individual store prices may vary.
or
Not Currently Available for Direct Purchase
Description
Cleaning up the afterlife - one spirit at a time R to L (Japanese Style). Cleaning up the afterlife - one spirit at a time Ever since he was little, Ichigo Kurosaki has been able to see the spirits of the dead, so when a teenage girl materializes through his bedroom wall, this should be no call for alarm. Rukia Kuchiki is a shinigami, a member of the mysterious Soul Society that is charged with capturing rogue ghosts, and is hot on the trail of an evil spirit. But in the ensuing confrontation, Ichigo absorbs Rukia's powers, giving him the ability to not only see the undead, but to fight them as well. Now this 15-year-old high school student begins a brand new vocation: hyperkinetic, all-purpose ghost-busting. With enough attitude to make a grown ghost blush, Ichigo and crew are taking on the after-life one ghoulie at time. The Slashing Opera Ichigo and his friends knew invading Hueco Mundo wouldn't be easy, but even the lesser Arrancars are pushing them to their limits Can Ichigo, Uryu and Chad find the inner strength to overcome the first line of attack, or will Orihime be stuck in Hueco Mundo forever? Ichigo Kurosaki never asked for the ability to see ghosts--he was born with the gift. When his family is attacked by a Hollow--a malevolent lost soul--Ichigo becomes a Soul Reaper, dedicating his life to protecting the innocent and helping the tortured spirits themselves find peace. Find out why Tite Kubo's Bleach has become an international manga smash-hit.
About the Author
Bleach is author Tite Kubo's second title. Kubo made his debut with ZombiePowder, a four-volume series for Weekly Shonen Jump. To date, Bleach has been translated into numerous languages and has also inspired an animated TV series that began airing in Japan in 2004. Beginning its serialization in 2001, Bleach is still a mainstay in the pages of Weekly Shonen Jump. In 2005, Bleach was awarded the prestigious Shogakukan Manga Award in the shonen (boys) category.
Advertisement