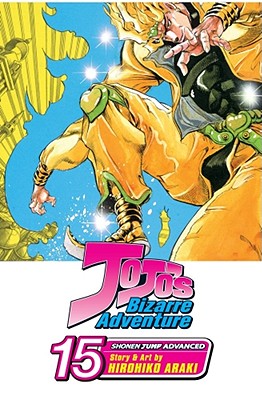 JoJo's Bizarre Adventure (Paperback)
Part 3--Stardust Crusaders (Single Volume Edition), Vol. 15: Stardust Crusaders (JoJo's Bizarre Adventure: Part 3--Stardu #15)
VIZ Media LLC, 9781421524085, 208pp.
Publication Date: August 3, 2010
Other Editions of This Title:
Hardcover (5/5/2020)
Hardcover (8/4/2020)
* Individual store prices may vary.
Description
An epic horror-action-adventure! Once there was a mighty bloodline of heroes: the Joestars. In the 1880s, Englishman Jonathan Joestar gave his life to defeat Dio, a megalomaniacal vampire. Now, 100 years later, Dio is back, and Jonathan's descendants must travel to Egypt to destroy their ancestral enemy once and for all.

Dio's World

Kakyoin, Polnareff and Joseph, who have pursued Dio from Japan to Egypt, find themselves hunted as night falls and Dio reveals his true power. But is Dio's Stand, "The World," already too powerful to be stopped?
About the Author
Hirohiko Araki made his manga debut in 1981 with the Wild West story Busô Poker. He experimented with several genres, including mystery (Mashonen B.T.) and action-horror (Baoh), before beginning JoJo's Bizarre Adventure in 1986. Propelled by imaginative storylines, weird imagery and individualistic artwork, JoJo's Bizarre Adventure is one of the longest-running and most popular shonen manga ever. Araki's current works include a new series set in the JoJo universe, JoJolion.