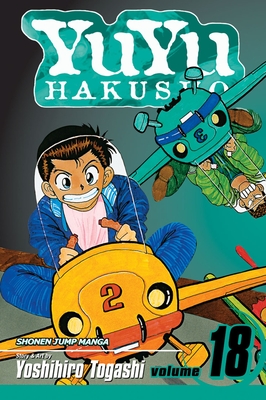 YuYu Hakusho, Vol. 18 (Paperback)
VIZ Media LLC, 9781421524498, 192pp.
Publication Date: October 6, 2009
* Individual store prices may vary.
Description
Former delinquent Yusuke is now a ghost with a mission! R to L (Japanese Style). Tournament of Kings! After the epic struggle to close the tunnel to the demon plane, Yusuke and the gang take some hard-earned time off. It's still a busy year, and Hiei and Kurama both spend time training and taking care of some loose ends from their pasts. Meanwhile, Yusuke trains with Raizen and ends up in charge of the old demon's domain! The other kings of the underworld won't stand for this state of affairs for long, so Yusuke proposes a new tournament, and the winner will be king of the demon plane! Yusuke Urameshi was a tough teen delinquent until one selfless act changed his life...by ending it. When he died saving a little kid from a speeding car, the afterlife didn't know what to do with him, so it gave him a second chance at life.
About the Author
Yoshihiro Togashi's manga career began in 1986 at the age of 20, when he won the coveted Osamu Tezuka Award for new manga artists. He debuted in the Japanese Weekly Shonen Jump magazine in 1989 with the romantic comedy Tende Shôwaru Cupid. From 1990 to 1994 he wrote and drew the hit manga YuYu Hakusho, which was followed by the dark comedy science-fiction series Level E and the adventure series Hunter x Hunter. In 1999 he married the manga artist Naoko Takeuchi.