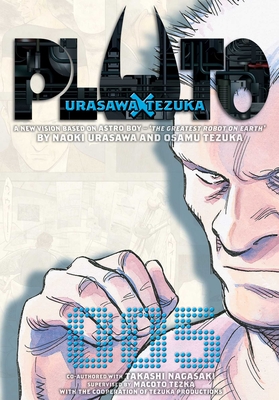 Pluto (Paperback)
Urasawa x Tezuka, Vol. 5
VIZ Media LLC, 9781421525839, 200pp.
Publication Date: September 15, 2009
Other Editions of This Title:
Paperback (2/17/2009)
Paperback (5/19/2009)
Paperback (11/17/2009)
Paperback (3/17/2009)
Paperback (7/28/2009)
Paperback (4/6/2010)
Paperback (1/19/2010)
* Individual store prices may vary.
Description
R to L (Japanese Style). A robot may not harm or kill a human being. Article 13 of the Robot LawsAdolph, a member of a robot hate group, is being used as a pawn and hunted down by the members of his own brotherhood. He must now turn to his worst enemy for protection--Gesicht, the robot who he believes killed his own brother.
About the Author
URASAWA Preeminent manga artist Naoki Urasawa, collaborating with editor, producer and manga writer Takashi Nagasaki, creates a daring revisionist take on Osamu Tezuka's timeless classic Astro Boy. Conceived under the auspices of Tezuka's son Macoto Tezka, a visual artist in his own right, Pluto: Urasawa × Tezuka is more than just an homage piece — Urasawa takes Tezuka's masterwork and transforms it into a new groundbreaking series of his own. Pluto: Urasawa × Tezuka will surely delight loyal Tezuka fans, but it will also capture the imagination of anyone who loves a compelling work of great science fiction. × TEZUKA The legendary Osamu Tezuka is arguably the most influential person to shape the landscape of the narrative art form known as manga. In 1964, Tezuka created a revolutionary story arc in his Astro Boy series called "The Greatest Robot on Earth." Tezuka's engaging tale struck a chord with the children of that time to become the most popular story line of the series. It would also prove to profoundly influence and inspire a generation of manga artists to come.