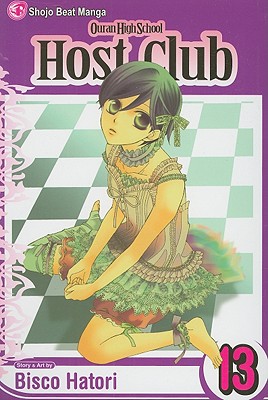 Ouran High School Host Club, Vol. 13 (Paperback)
Viz Media, 9781421526737, 200pp.
Publication Date: November 3, 2009
Description
Now an animated series R to L (Japanese Style). Mei, wanting Haruhi to face up to her feelings, leaves out a magazine that has a checklist for determining whether a girl is in love. As Haruhi reads through the checklist, she realizes that one host may have captured her heart without her even knowing... In this screwball romantic comedy, Haruhi, a poor girl at a rich kids' school, is forced to repay an $80,000 debt by working for the school's swankiest, all--male club--as a boy There, she discovers just how wealthy the six members are and how different the rich are from everybody else....
About the Author
Bisco Hatori made her manga debut with Isshun kan no Romance (A Moment of Romance) in LaLa DX magazine. The comedy Ouran High School Host Club is her breakout hit. When she's stuck thinking up characters' names, she gets inspired by loud, upbeat music (her radio is set to NACK5 FM). She enjoys reading all kinds of manga, but she's especially fond of the sci-fi drama Please Save My Earth and Slam Dunk, a basketball classic.
Advertisement