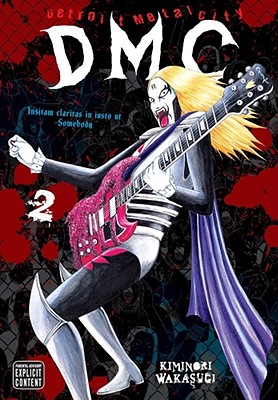 Detroit Metal City, Volume 2 (Paperback)
Viz Media, 9781421527437, 200pp.
Publication Date: September 22, 2009
Other Editions of This Title:
Paperback (9/14/2010)
Paperback (12/8/2009)
Paperback (6/14/2011)
Paperback (6/8/2010)
Paperback (9/13/2011)
Paperback (3/8/2011)
Paperback (12/14/2010)
Paperback (3/9/2010)
* Individual store prices may vary.
Description
R to L (Japanese Style). An anti-male, all-girl punk band is ripping up the charts and has declared all-out war on DMC. They're asking for nothing less than the total emasculation of Krauser and his minions, and DMC will need to bring some serious metal might if they hope to squash this new troupe of sultry songstresses. And what the hell is Krauser doing at an amusement park? Planning a new blood sacrifice, perhaps?
About the Author
Kiminori Wakasugi was born in 1975 and is from Oita prefecture. For five years he was an assistant to manga artist Yasuhito Yamamoto, who's swimming manga Sekido ran in Young Jump. Wakasugi debuted in the pages of Uppers with Amaresu Ken-chan (Amateur Wrestler Ken-chan). Musically, he's a fan of Kahimi Karie and doesn't know much about, or actually listen to, a lot of heavy metal or death metal. He's also a fan of the manga Gorilla Man by Harold Sakuishi (the creator of Beck).