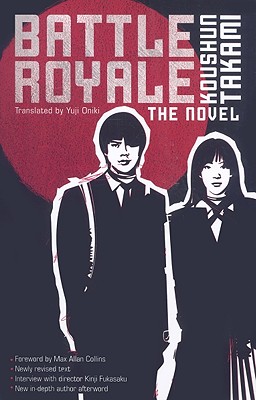 Battle Royale
The Novel
Paperback

* Individual store prices may vary.
Description
In an alternative future Japan, junior high students are forced to fight to the death! L to R (Western Style). Koushun Takami's notorious high-octane thriller is based on an irresistible premise: a class of junior high school students is taken to a deserted island where, as part of a ruthless authoritarian program, they are provided arms and forced to kill one another until only one survivor is left standing. Criticized as violent exploitation when first published in Japan--where it then proceeded to become a runaway bestseller--Battle Royale is a Lord of the Fliesfor the 21st century, a potent allegory of what it means to be young and (barely) alive in a dog-eat-dog world. Made into a controversial hit movie of the same name, Battle Royale is already a contemporary Japanese pulp classic, now available for the first time in the English language. A group of high school students are taken to small isolated island and forced to fight each other until only one remains alive! If they break the rules a special collar blows their heads off. Koushun Takami's brutal, high-octane thriller is told in breathless. blow-by-blow fashion. Battle Royale is a contemporary Japanese pulp classic now available for the first time in English.
Haikasoru, 9781421527727, 624pp.
Publication Date: November 17, 2009
About the Author
Koushun Takami was born in 1969 in Amagasaki near Osaka and grew up in Kagawa Prefecture of Shikoku, where he currently resides. After graduating from Osaka University with a degree in literature, he dropped out of Nihon University's liberal arts correspondence program. From 1991 to 1996, he worked for the prefectural news company Shikoku Shihnbun, reporting on various fields including politics, police reports, and economics. Although he has an English teaching certificate, he has yet to visit the United States. Battle Royale, completed after Takami left the news company, was rejected in the final round of a literary competition sponsored by a major publisher due to the critical controversy it provoked among jury members. With its publication in Japan in 1999, though, Battle Royale received widespread support, particularly from young readers, and became a bestseller. In 2000, Battle Royale was serialized as a comic and made into a feature film.Mr. Takami is currently working on his second novel."
or
Not Currently Available for Direct Purchase