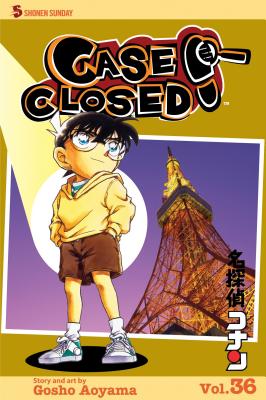 Case Closed, Volume 36 (Paperback)
Viz Media, 9781421528878, 192pp.
Publication Date: October 12, 2010
Description
The mystery series that inspired the hit anime Reads R to L (Japanese Style), for T+ audiences. With a BangWhen a car bomb goes off at a ticker-tape parade, Conan is onto one of the biggest cases of his career: a terrorist attack on Tokyo. A videotape intercepted from the crime scene may have captured the culprit's face, but while the Metropolitan Police and the Junior Detective League study the footage without success, the bombings keep escalating And for Detective Sato, the case brings back bad memories. Can she and Conan crack the mystery before the bomber takes down the biggest target of all: Tokyo Tower?
About the Author
Gosho Aoyama, made his debut in 1992 with CHOTTO MATTE ("Wait a minute") which won Shogakukan's prestigious Shinjin Comic Taisho ("Newcomer's Award for Comics") and launched his career as a critically acclaimed, top-selling manga artist. In addition to DETECTIVE CONAN which won the Shogakukan Award for best Manga in 2001, Aoyama created the popular manga, YAIBA, which won Shogakukan's Award for Manga in 1992. Aoyama's manga is greatly influenced by his boyhood love for mystery, adventure, and baseball and he has cited the tales of Arsene Lupin, Sherlock Holmes, and the samurai films of Akira Kurosawa as some of his childhood favorites.
Advertisement