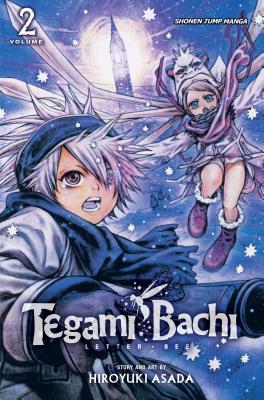 Tegami Bachi, Vol. 2
Paperback

* Individual store prices may vary.
Description
A New York Times best-selling sci-fi fantasy series with heart.

Amberground is locked in darkness. A man-made star casts only a dim light over the land. The pitch-black wilderness is infested with Gaichuu—colossal insects with metal exoskeletons. The Gaichuu make travel between the cities of Amberground extremely dangerous. But thankfully the Letter Bees, a brave corps of messengers, risk their lives in order to keep the hearts of Amberground connected.

Lag is close to becoming a Letter Bee! On the way to his final interview at the National Postal Service, he found a dingo: Niche, a feral young girl with shocking strength and hair made of golden swords. Now, as they approach the bridge to the middle-caste district, they stop to rest in Kyrie, a desperado town. They meet Nelli, a friendly young man who shows them to an inn. Nelli's so helpful that they never notice him steal Lag's crossing pass!
VIZ Media LLC, 9781421529509, 200pp.
Publication Date: March 2, 2010
About the Author
Hiroyuki Asada made his debut in Monthly Shonen Jump in 1986. He's best known for his basketball manga I'll. He's a contributor to artist Range Murata's quarterly manga anthology Robot. Tegami Bachi: Letter Bee is his most recent series.