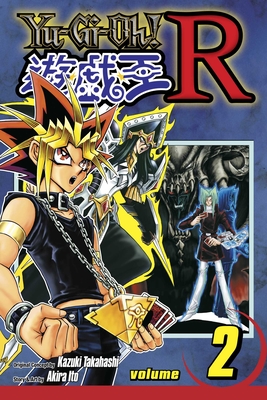 Yu-Gi-Oh! R, Volume 2 (Paperback)
Viz Media, 9781421530079, 189pp.
Publication Date: December 1, 2009
Description
Yugi's back for another duel, but this time, it's personal R to L (Japanese Style). A World Ruled by Fear Yugi's battle with Yako Tenma continues, but Yako's evil genius ensures things are not as they seem. Kaiba returns from America and finds his company has been taken over by Yako. Obsessed with his mentor Pegasus, Yako is determined to find a way to bring him back and initiates the sinister "R.A. Project." What will it take to stop Yako's mad plan? Yugi Muto defeated many opponents over the years and now one of the most skilled and driven of his enemies, Yakou Tenma, is looking for some payback But Yakou has his reasons for wanting to take Yugi down, and he won't stop until he accomplishes his goal.
About the Author
Original Yu-Gi-Oh! creator Kazuki Takahashi first tried to break into the manga business in 1982, but success eluded him until Yu-Gi-Oh! debuted in the Japanese Weekly Shonen Jump magazine in 1996. Yu-Gi-Oh!'s themes of friendship and fighting, together with Takahashi's weird and imaginative monsters, soon became enormously successful, spawning a real-world card game, video games, and three anime series (two Japanese Yu-Gi-Oh! series and Yu-Gi-Oh! GX).
Advertisement