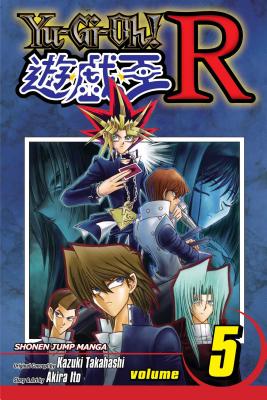 Yu-GI-Oh! R, Volume 5 [With Ultra Rare Alector, Sovereign of Birds Card] (Paperback)
Viz Media, 9781421530109, 296pp.
Publication Date: June 1, 2010
Description
Yugi's back for another duel, but this time, it's personal R to L (Japanese Style). The shocking sequel to Yu-Gi-Oh : Duelist and prequel to Yu-Gi-Oh : Millennium World When the follower of an old enemy returns to take revenge, Yugi Mutou must duel to save a friend's life. But can he overcome the power of the three "Jashin," the terrifying Evil God Cards? Final Volume BONUS Card inside (First Print Limited Quantity Available) It's down to the 11th hour as Yugi and Jonouchi fight to save their friend Anzu's soul Bandit Keith, the ruthless American duelist, challenges Jonouchi to a rematch using his own God Card, the "Wicked Eraser" Meanwhile, Yugi faces Yako Tenma, Pegasus's favorite pupil, in a battle which pits god against god The shocking 296-page climax.
About the Author
Akira Ito worked on the original Yu-Gi-Oh! manga as an assistant to Kazuki Takahashi. He also assisted in the creation of Yu-Gi-Oh! GX. Yu-Gi-Oh! R is his first work as lead creator.
Advertisement