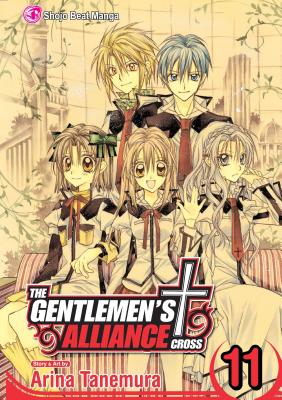 The Gentlemen's Alliance +, Volume 11 (Paperback)
Viz Media, 9781421531632, 192pp.
Publication Date: April 6, 2010
Description
From the creator of Full Moon o Sagashite. Final Volume *(>o Please note: Reads Right to Left (Japanese Style) In return for a business loan of 50 million yen, the prestigious Kamiya family gave their daughter Haine away to the Otomiya family. Haine, now an Otomiya, is appointed to the student council of the exclusive Imperial Academy, a private school for the aristocracy. Even though Haine is of proper lineage to be on the council, she finds herself struggling to find her place among the many secrets of its elite members, especially those of the president who holds her heart--Shizumasa Togu, aka "the Emperor." Haine goes to Shizumasa and Takanari's grandfather, the head of the Togu family, to ask him to release the twins from their fate. He tells her she must pass the same trial the twins went through for determining the Togu heir. Haine agrees, but little does she know that a former friend is now out for her life.
About the Author
Arina Tanemura began her manga career in 1996 when her short stories debuted in Ribon magazine. Tanemura gained fame with the 1997 publication of I-O-N, a high school romance with a supernatural twist. From 1998 to 2000, she worked on the popular series Kamikaze Kaito Jeanne, about a young girl who is the reincarnation of Joan of Arc, followed by Time Stranger Kyoko in 2000-2001 and Full Moon in 2002. Despite Tanemura's intentions to draw in a style that makes her stories difficult to animate, both Kamikaze Kaito Jeanne and Full Moon have been adapted into TV series.
Advertisement