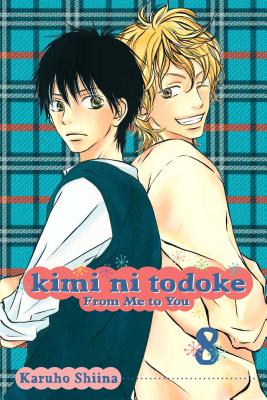 Kimi Ni Todoke: From Me to You, Volume 8 (Paperback)
From Me to You, Volume 8
Viz Media, 9781421531762, 176pp.
Publication Date: May 3, 2011
Description
Will the curse of Sadako leave her friendless for life? Reads R to L (Japanese Style) T audience. Sawako Kuronuma is the perfect heroine...for a horror movie. Nicknamed "Sadako" after the haunting movie character, everyone is afraid to come near her for fear of being cursed. But underneath her scary exterior lies an ordinary teenager who just wants to make friends. A new school year begins happily when Sawako and her friends Chizu and Ayane - as well as her crush, Kazehaya - are all in the same homeroom. But when anothe popular guy in the class shows an interest in Sawako, will it push Kazehaya and Sawako apart?
About the Author
Karuho Shiina was born and raised in Hokkaido, Japan. Though Kimi ni Todoke is only her second series following many one-shot stories, it has already racked up accolades from various "Best Manga of the Year" lists. Winner of the 2008 Kodansha Manga Award for the shojo category, Kimi ni Todoke also placed fifth in the first-ever Manga Taisho (Cartoon Grand Prize) contest in 2008. An animated TV series debuted in October 2009 in Japan.
Advertisement