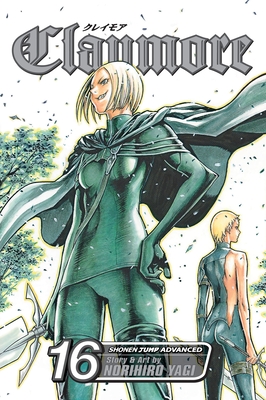 Claymore, Vol. 16 (Paperback)
VIZ Media LLC, 9781421534152, 192pp.
Publication Date: June 1, 2010
* Individual store prices may vary.
Description
A New York Times best selling, multi-arc, character-driven story with great battles and strong-willed females that will appeal to males and females alike.

In a world where monsters called Yoma prey on humans and live among them in disguise, humanity's only hope is a new breed of warrior known as Claymores. Half human, half monster, these silver-eyed slayers possess supernatural strength but are condemned to fight their savage impulses or lose their humanity completely.

After Miria's incredible revelations about the origins of the Yoma, the seven warriors split up to settle their affairs and say their goodbyes in preparation for the final battle against the Organization. Helen and Deneve fall in with a spirited young warrior of the current generation and soon find themselves confronting the Organization's latest, most terrible weapons.
About the Author
Norihiro Yagi won the 32nd Akatsuka Award for his debut work, UNDEADMAN, which appeared in Monthly Shonen Jump magazine. His first serialized manga was his comedy Angel Densetsu (Angel Legend), which appeared in Monthly Shonen Jump from 1993 to 2000. His epic saga, Claymore, ran from 2001 to 2014 and was adapted into a television anime series and a video game.