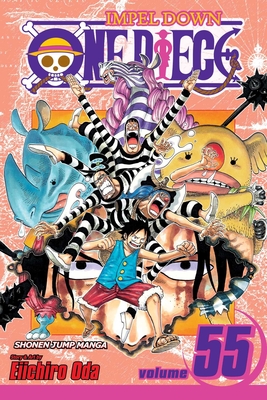 One Piece, Volume 55 (Paperback)
Viz Media, 9781421534718, 187pp.
Publication Date: October 5, 2010
Description
High jinx on the high seas Reads R to L (Japanese Style), for T audiences. A Ray of Hope Luffy's got some backup in his former enemies Buggy the Clown, Mr. 2 Bon Clay and Mr. 3 as he tries to rescue his brother from Impel Down prison. But now Warden Magellan, with his Venom-Venom powers, is out to stop him Can Luffy survive such a dangerous attack from a person whose very breath is a deadly weapon, or could his ace in the hole possibly be a "queen"?
About the Author
Eiichiro Oda debuted in Weekly Shonen Jump in 1997 as a comic creator and artist with ONE PIECE. One of the most popular comic artists in Japan today, Oda started out by winning the Hop Step Award (a monthly award given by Jump for amateur artists) as well as the esteemed Tezuka Award. His art style is reminiscent of Akira Toriyama, Sergio Aragones, and the movie Yellow Submarine.
Advertisement