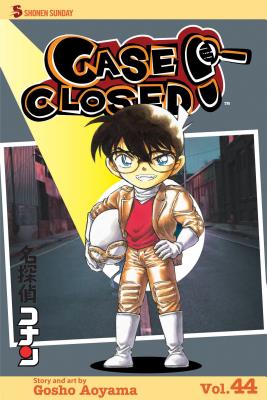 Case Closed, Volume 44 (Paperback)
Viz Media, 9781421536101, 200pp.
Publication Date: October 9, 2012
* Individual store prices may vary.
Description
The mystery series that inspired the hit anime Reads R to L (Japanese Style). Jimmy Kudo, the son of a world-renowned mystery writer, is a high school detective who has cracked the most baffling of cases. One day while on a date with his childhood friend Rachel Moore, Jimmy observes a pair of men in black involved in some shady business. The men capture Jimmy and give him a poisonous substance to rub out their witness. But instead of killing him, it turns him into a little kid Jimmy takes on the pseudonym Conan Edogawa and continues to solve all the difficult cases that come his way. All the while, he's looking for the men in black and the mysterious organization they're with in order to find a cure for his miniature malady. Serena's wealthy Uncle Jirokichi unveils his most prized possession: the Blue Wonder, a legendary blue gem said to possess mystical powers. It's a prize no thief can resist--and that's exactly what Jirokichi is hoping But when he uses the gem as bait to trap the infamous Kaito Kid, he gets far more than he bargained for. Fortunately, Conan has his own grudge against the Kid, and this time he's determined to get his man.
About the Author
Gosho Aoyama made his debut in 1992 with Chotto Matte (Wait a Minute), which won Shogakukan's prestigious Shinjin Comic Taisho (Newcomer's Award for Comics) and launched his career as a critically acclaimed, top-selling manga artist. In addition to Detective Conan, which won the Shogakukan Manga Award in 2001, Aoyama created the popular manga Yaiba, which won the Shogakukan Manga Award in 1992. Aoyama's manga is greatly influenced by his boyhood love for mystery, adventure and baseball, and he has cited the tales of Arsene Lupin and Sherlock Holmes and the samurai films of Akira Kurosawa as some of his childhood favorites.