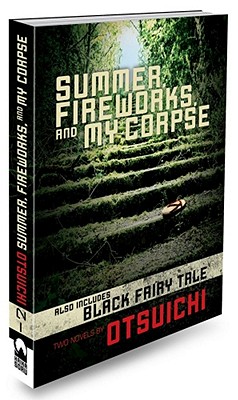 Summer, Fireworks, and My Corpse (Paperback)
Haikasoru, 9781421536446, 300pp.
Publication Date: September 21, 2010
* Individual store prices may vary.
Description
A coming of age story, right after death.

L to R (Western Style). Two short novels, including the title story and Black Fairy Tale, plus a bonus short story. Summer is a simple story of a nine-year-old girl who dies while on summer vacation. While her youthful killers try to hide the her body, she tells us the story—from the POV of her dead body—of the boys' attempt to get away murder. Black Fairy Tale is classic J-horror: a young girl loses an eye in an accident, but receives a transplant. Now she can see again, but what she sees out of her new left eye is the experiences and memories of its previous owner. Its previous deceased owner.
About the Author
Born 1978 in Fukuoka, Otsuichi won the Sixth Jump Short Fiction/Nonfiction Prize when he was seventeen with his debut story "Summer, Fireworks, and My Corpse." Now recognized as one of the most talented young fantasy/horror writers in Japan, his other English-language works include the short story collection Calling You, the Honkaku Mystery Prize-winning novel Goth, and the collection ZOO (Haikasoru 2009).