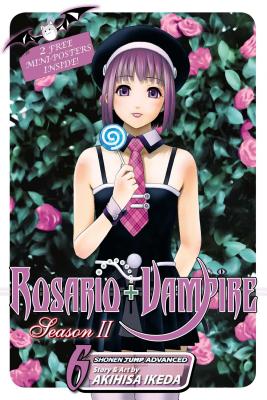 Rosario+vampire: Season II, Vol. 6 (Paperback)
Season II, Vol. 6
Viz Media, 9781421538310, 192pp.
Publication Date: October 4, 2011
Description
Love bites Reads R to L (Japanese Style). Gangstah When a supernatural clan of gangsters makes you an offer you can't refuse... a. refuse b. gang up on them c. take the Rosario (off)
About the Author
Akihisa Ikeda was born in 1976 in Miyazaki. He debuted as a mangaka with the four-volume magical warrior fantasy series Kiruto in 2002, which was serialized in Monthly Shonen Jump. Rosario+Vampire debuted in Monthly Shonen Jump in March of 2004 and is continuing in the new magazine Jump Square (Jump SQ) as Rosario+Vampire, Season II. In Japan, Rosario+Vampire is also available as a drama CD. In 2008, the story was first released as an anime. Season II is also available as an anime now. And in Japan, there is a Nintendo DS game based on the series.
Advertisement